Plik nwn.ini
znajdziemy w katalogu głównym gry, najwygodniej jest otworzyć notatnik i na jego puste pole przeciągnąć i upuścić plik nwn.ini, albo skorzystać z komendy: plik -> otwórz i odszukać, poklikać... jak kto lubi ;)
pod nagłókiem
[Display Options]

znajdziemy następujące opcje:
AllowWindowedMode=1

włącza możliwość grania w okienku
FullScreen=0

sprawia, że gra uruchomi się w oknie
przejście z truby okna w tryb pełnoekranowy za pomocą kombinacji klawiszy ALT+ENTER, można też zrobić dwuklik na pasku okna, by przejść na "fullscreen"
Disable Intro Movies=1

wyłącza filmiki typu intro - gra szybciej się uruchamia
Width=1024
Height=768

wartości oznaczają rozdzielczość, w jakiej gra zostanie uruchomiona
Wyłączenie oczekiwania na autoryzację przez wyłączony serwer Bioware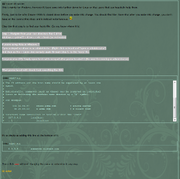 0.0.0.0 nwmaster.bioware.com

klik w obrazek, by powiększyć :) powyżej kody do wklejenia w pliku hosts
Tworzenie logów w plikach txt, które nie będą się nadpisywać i znikać
Neverwinter zapisuje logi w pliku, który wraz z kolejnym uruchomieniem gry jest nadpisywany i tracimy poprzednie logi. W logach możemy mieć historię rozmowy z lewego okienka, albo historię obu okienek - również logów z okna walki. Na Studni mamy w tym okienku także tłumaczenia tego, co ktoś mówi w języku innym niż tzw wspólny, czyli np elfim, niziołczym czy sylvańskim.
Rozwiązanie, które stosuję, znalazłem tutaj: http://lotn.info/index.php?topic=1088.0
---
Did you know you can record a text logfile of your NWN session? That's right, all the wordy stuff that scrolls up from the two panes at the bottom of your NWN screen can be painlessly captured in a text file that you can edit with Notepad, or Word. To activate this magic in Windows, here's what you do:
Use your "My Computer" icon to navigate to your NWN folder (usually C:\NeverwinterNights\NWN).
Locate a file of type "Configuration Settings" named nwplayer (or nwplayer.ini). Double-click it to open it in Notepad.
The first section should be titled "
[Game Options]

In that section, locate a line that starts "ClientEntireChatWindowLogging=". Make sure the value after the equals sign is set to 1.
Save and close the file, and restart NWN.
Now, every time you start NWN, the game will write a file in the "logs" folder called "nwclientLog1.txt". Note that this file gets erased and started anew each time you start NWN, so if something worthwhile happens, be sure to copy that logfile somewhere else after you exit the game.
...
I wrote my own.
runnwn.bat
@echo off
setlocal
REM -- save existing logfile under remembered name
set logname=
if not exist logs/logname.txt goto NOLOGNAME
for /f "tokens=1" %%i in (logs/logname.txt) do set logname=%%i
if "%logname%" NEQ "" goto COPYF
:NOLOGNAME
set logname=logs\nwclientLog-x%random%.txt
:COPYF
if not exist logs\nwclientLog1.txt goto MAKENEWN
echo Saving old logfile as %logname%
copy logs\nwclientLog1.txt %logname%
if exist logs\nwclientLog1.bak erase logs\nwclientLog1.bak
move logs\nwclientLog1.txt logs\nwclientLog1.bak
REM -- make filename
:MAKENEWN
set d1=
set d2=
for /f "tokens=2,3,4 delims=/ " %%i in ('echo %date%') do set d1=%%k%%i%%j
for /f "tokens=1,2 delims=:" %%i in ('echo %time%') do set d2=%%i%%j
echo logs\nwclientLog-%d1%%d2%.txt > logs/logname.txt
:RUNPROG
nwn
endlocal

What does it do, you ask? It automatically keeps a dated copy of your logfile for each session.
Just save the code above into a file named "runnwn.bat", and stick it in your NWN folder. Right-click on the file, and choose "Send To->Desktop". Now you have an icon on your desktop for launching NWN, and automatically recording and keeping a logfile.
NOTE: this only works on Windows 2000 Professional and Windows XP. If you're one of the poor benighted souls running NWN on Windows 98 or Windows Me, too bad. :)
---
Bardzo fajny skrypt, bo, nie trzeba wpisywać ścieżek, w katalogu logs otrzymujemy pliki, które w nazwie zawierają godzinę logowania do gry. Zawartość z pliku neverowego jest kopiowana nie wraz z zamknięciem gry a wraz z jej uruchomieniem. Czyli jeśli uruchomię grę o 10:00 i skoncze o 10:30, to mój plik logu z grania w tym czasie jest jeszcze pusty. Ale przy uruchomieniu gry kolejnym zostanie uzupełniony.
Nie wiem, czy kogoś to zainteresuje :P Jakby co, to pytajcie. Logi fajna rzecz, zawsze można przeszukać, by sprawdzić jak się nazywał jakiś napomniany podczas questu NPC, czy sprawdzić trafienie goblina :D
Jakby ktoś nie dawał rady ze zrozumieniem po angielsku, to mogę przetłumaczyć, nie chce mi się tego robić na zaś, jeśli okaże się, że nie ma takiej potrzeby.
Zaznaczam, że privy też się zapisują, a logi (od gracza) nie mogą być materiałem dowodowym, bo łatwo je spreparować :B
Prefiksy kanałów rozmów
/tk - talk - rozmowa
/s - shout - krzyk
/p - party - drużyna
/dm - DM - MG
/w - whisper - szept
/tp "nick gracza" - tell player - tak zwany priv
Community content is available under
CC-BY-SA
unless otherwise noted.